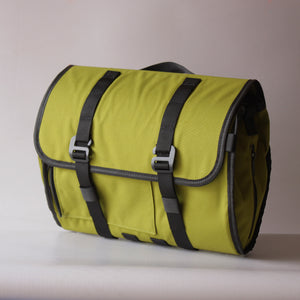 Frost+Sekers
'Isebus' Handlebar/Saddle Bag - 12L - Forest
Sale price Price £95.00 Regular price
Tax included.
We've been developing a range of bags built around practicality in an aesthetic that we think will appeal to a wider range of riders. These samples are made to the same exacting standards as all of our bags, albeit this time in sturdy water-resistant Nylon with webbing straps and G-hook closures.
The utilitarian 'Isebus' bag is sized to fit snugly between all but the narrowest drop bars, or under the saddle. Choose to mount directly or using our Quick-Lock micro-rack for easy fitting and removal.
NOTE: Some of these have an illustrated patch applied (see pics) - we were experimenting with an illustrator collab. Just shoot us a message if you'd prefer one with or without the patch.
Water repellent
Durable Nylon outer fabric
Integrated rain skirt
Bright, removable structure/liner (easy to clean)
Sturdy webbing straps
Aluminium G-Hook closure

Weight 850 grams
Size 28x20x34cm
Capacity 12 liters