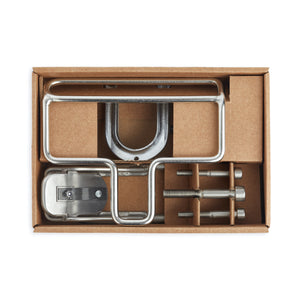 Frost+Sekers
Quick-lock Standard, Saddle Bag Mount
Sale price Price £52.00 Regular price £0.00
Tax included.
Orders will ship with the updated handle design which you can see here.
Weatherproof
0.356kg
Stainless steel and (Waxed cotton handle included with every bag)
Installed under saddle
Works on all Seatpost with a vertical bolt clamping mechanism. (I.E Not Brompton Bike Seatposts.)
 All Quick-locks include the stainless steel handle design, not the Beech wood design featured in some of our photos. The accompanying fabric wrap is included with all our bags.
A quick-release saddle bag mechanism designed specifically for standard seatposts, comprised of a rail and a handle. Attach the straps of your bag to the Quick-lock's handle and attach the mount under the saddle, then slot the handle into the mount to secure to your bike with a satisfying click.
We have designed the mechanism to be so easy to use it can be used one-handed; a short sharp pull with detach the handle from the mount. Our saddle bag mount system or micro rack can be fitted to almost any bicycle with a saddle and a seatpost.